The impacts of climate change are especially pronounced in cities, including the urban heat island (UHI) effect. In densely developed urban areas, higher average temperatures are increasingly resulting in heat islands. Heated buildings and infrastructure surfaces (roads, paths, squares) produce excessive heat, posing in combination with air pollution and reduced air circulation a major health risk to residents. Green areas and/or water areas as well as road and building vegetation can help reduce the occurrence of UHIs. These measures are already being implemented in many cities, but they are not possible everywhere or not necessarily to a sufficient degree.
New solution concept
An innovative approach to preventing the formation of heat islands is to "harvest" excess solar heat in urban areas from building surfaces, paths, roads and squares by installing flat absorber lines. The collected heat is then fed into a borehole thermal energy storage and can be made available later as a heat source for heating buildings. Due to the high temperature level of urban surfaces, which can be as high as 50 °C, flow temperatures into the storage system of up to 40 °C can be expected. However, the subsurface temperatures in cities are generally already elevated due to development and use. Precise calculations and simulations are required for storing additional waste heat on a seasonal basis and for integrating heat pumps. This was the focus of the "Heat Harvest" project, led by the AIT Austrian Institute of Technology in cooperation with the Geological Survey of Austria and TERRA Umwelttechnik GmbH.
Analysis of thermal effects in the subsurface
The project work included a comprehensive investigation of how the thermal behaviour of the subsurface changes when urban solar waste heat is fed into borehole thermal energy storage. The geothermal test field of the Geological Survey of Austria, installed in Vienna in 2019, was used for this purpose. Laboratory experiments and simulations under various conditions were also carried out in parallel at the AIT. The goal was to explore the appropriate conditions for harvesting solar waste heat in urban environments. The tests and analyses laid the technological foundation for implementing the concept.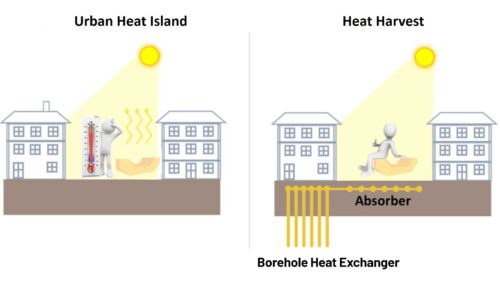 Highly promising results
The investigations show that – given appropriate geological conditions – higher temperatures can be fed into geothermal probe storage systems without causing negative thermal consequences. The required geology is a clay-silt-dominated system, as is typical for the part of Vienna south of the Danube. Precise knowledge of the subsurface (structure, groundwater, thermal conductivity, thermal capacity, etc.) is essential for correct planning and efficient operation of a borehole thermal energy storage. Seasonal heat storage in borehole heat exchangers is a space-saving and invisible technology that is particularly appropriate for densely built-up areas. The higher feed-in temperature (up to 40 °C instead of the usual maximum of 30 °C) results in a significant increase in the transmission performance of the probe but does not cause excessive heating of the subsurface. The innovative technology has a high potential for reducing the urban heat island effect. Plus, the concept improves the efficiency of heating operations, thereby contributing to the decarbonisation of the heating sector. The target group for the innovative concept consists of developers, building operators, municipalities and industrial and infrastructure companies with large amounts of usable land area. The harvesting of excess solar heat is also an interesting option for retrofitting in existing buildings (including listed buildings).
nachhaltigwirtschaften.at/de/sdz/projekte/heat-harvest.php
100% renewable heating and cooling supply in social residential buildings
An innovative building services concept is currently being developed for a residential construction and demonstration project on Käthe-Dorsch-Gasse in 1140 Vienna based on insights from the "Heat Harvest" project. The large-volume social residential building with about 300 units (built by developer WBV-GPA – Wohnbauvereinigung für Privatangestellte) will implement a 100 % renewable (on-site) heating and cooling supply that will simultaneously offer excellent comfort to residents.1

The overall system combines innovative technologies that have never been used before in this combination or at this scale in a social residential building. These include the harvesting of geothermal energy in borehole heat exchanger fields, heating and cooling via thermally activated building systems, free cooling, heat recovery from service water and a PV system to cover a large share of the electricity demand of the building services systems as well as the general electricity demand.The concept calls for the integration of asphalt collectors and roof-mounted (unglazed) flat collectors. Both solar heat and waste heat from cooling of the units will be stored in a borehole heat exchanger field. A performance comparison between the solar and the asphalt collectors is also part of the project.
nachhaltigwirtschaften.at/de/sdz/projekte/sozial-100-prozent-erneuerbar.php
 
1 Project partners: Schöberl und Pöll GmbH (project management), WBV-GPA – Wohnbauvereinigung für Privatangestellte, AIT Austrian Institute of Technology GmbH