Converting our energy system to a climate-neutral supply structure based on renewable sources is a huge challenge. New technologies and systems are needed to allow increased integration of renewable sources in the energy system, and to guarantee security of supply at all times despite fluctuating levels of wind and sunlight.
 
The objective of the multilateral Joint Programming Platform Smart Energy Systems (JPP SES) is to support transnational RDI projects for the development of intelligent, integrated energy systems to facilitate the supply of energy using up to 100% renewable sources. These research initiatives are supported by 32 national and regional public funding partners and partly co-funded by the European Union within the Horizon 2020 programme. Together, these partners aim to further the research, technical development and demonstration of innovative solutions.
 
The platform organises annual calls for research funding on themes such as smart grids, integrated regional and local energy systems, heating and cooling networks, digitalisation of the energy system and smart services. Involving relevant innovation stakeholders, technology developers and users in the participating countries and regions creates a transnational knowledge pool. This helps with the development and dissemination of new technologies, market designs and business models. Early involvement of stakeholders in co-creation processes is a vital part of this.
Realising European objectives
The Joint Programming Platform Smart Energy Systems is making a significant contribution to the transformation of the European energy system and the implementation of the European SET-Plan. The platform functions as an umbrella for ERA-Net Cofund actions in the area of SET-Plan Action 4, focusing on the integration of energy systems, sector coupling and digitalisation1. The various different JPP SES Focus Initiatives in the period from 2015 to 2025 complement each other, allowing synergies to be exploited and enabling links to be made between projects from different ERA-Net calls.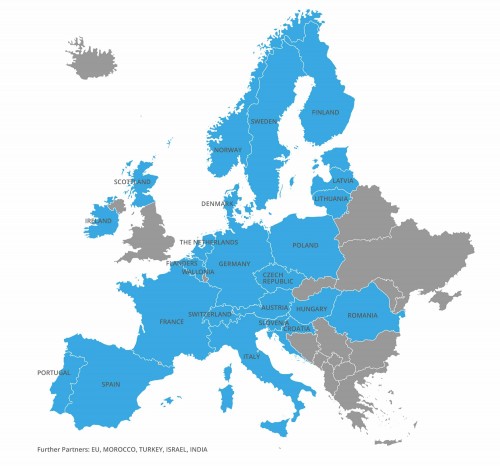 Priorities and activities
Between 2015 and 2019, JPP SES organised five transnational joint calls with public funding of just under EUR 100 million. Beginning with the focus on smart grids (calls 2015/16/17), in 2018 an initiative was launched on the theme of "Integrated regional energy systems". The 2019 joint call concentrated on storage system solutions and was also targeted towards external funding partners from the Mission Innovation countries ("MICall19")2. In 2020, a call for proposals was launched focusing on "Digitalisation of the energy systems". 2021, a call is planned on integrated regional energy systems with an emphasis on heating and cooling solutions. Three of the joint calls were co-financed by the European Commission through the ERA-Net Cofund instrument (ERA-Net Smart Grids Plus, ERA-Net RegSys, ERA-Net EnerDigit).
 
Since 2015 the Austrian Federal Ministry for Climate Action, Environment, Energy, Mobility, Innovation and Technology (BMK) is coordinating the JPP SES initiatives. During this period, Austrian stakeholders have been involved in 26 transnational projects, helping to advance the international exchange of research and knowledge.
Developing pioneering solutions
Research, technological development and demonstration play a central role on the path to a sustainable energy system. Transformation of the energy supply to 100% renewable energy sources requires a fully integrated system, in which power, heating/cooling and mobility are linked and many different components function together in an intelligent system. Integrated regional and local energy systems will play an important part in future. In this edition we present some pioneering solutions and components for smart energy systems which are being developed in Austria, in collaboration with European partners, under the scope of the Joint Programming Platform SES, and some trailblazing national RDI projects from the programmes of the BMK and the Climate and Energy Fund.
 www.eranet-smartenergysystems.eu
 
1 nachhaltigwirtschaften.at/en/news/2018/implementation-plan-of-set-plan-action-4.php
² Mission Innovation is a global initiative of 24 countries and the European Union, working to combat climate change and accelerate the development of clean energy technologies. At the 2019 Mission Innovation Ministerial conference in Vancouver a side event was organised by JPP SES where a group of MI countries declared their willingness to participate in the pioneering "MICall19", the first mulitlateral funding call for RDI projects within Mission Innovation, hosted by JPP SES.
Clean Energy Transition Partnership
Building on the findings and experiences of the ERA-Net initiatives the new European "Clean Energy Transition Partnership" (CETP) is now emerging. Austria is actively involved in the conception and development of the programme through BMK. Twenty-seven countries have already declared their interest to collaborate in this partnership. BMK together with a core group of countries facilitated the development of an initial Strategic Research and Innovation Agenda that was finally launched in November 2020. CETP is a pan-European research programme with the aim of accelerating all aspects of the energy transition. The initiative supports activities on regional, national and European levels, as well as collaborations between research, public organisations, industry and citizen organisations. Its purpose is to work together to drive forward the transformation of the energy system and to make Europe a pioneer of energy innovations and their implementation. CETP is helping to implement the European Green Deal and make the European vision of a climate-neutral Europe by 2050 a reality.