PV@Fassade is a project in which experts from science and industry do research on efficient, aesthetically appealing components and systems for PV integrated in buildings (BIPV). Particularly in Austria, where open space is mainly used for agriculture, buildings offer the largest potential for installing PV facilities. In future more use can be made not just of roofs, but also of façades, balconies and canopies to integrate PV modules.
BIPV modules based on crystalline silicon technology and glass/glass structure have been in use for years and proved themselves efficient and reliable. In Austria only around 2.4 % of all PV facilities are integrated in the building envelope, and only 0.6 % in the façade. But for innovative PV technologies with new backing materials there is a lack of technically, economically and aesthetically satisfying ways of integrating these in buildings, particularly façades. BIPV involves special challenges both in terms of design, circuitry, materials and appearance and as regards the efficiency and durability of the PV components.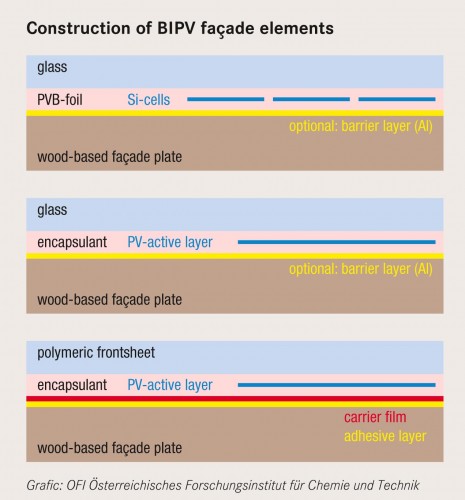 Aims in research
PV@Fassade is an interdisciplinary project in which nine Austrian partners from industry and research, headed by OFI Österreichisches Forschungsinstitut für Chemie und Technik, are developing solutions to the complex problems involved in building-integrated PV, in order to create the knowledge and technology base necessary to implement low-cost, reliable, aesthetically appealing BIPV systems. Research work includes developing improved PV active materials (crystalsol GmbH, Sunplugged – Solare Energiesysteme GmbH) and ways to laminate/bond them with a façade element (compact panel) developed by the firm of Fritz Egger GmbH to form a durable multi-material composite. Another important issue: working out pioneering circuitry and integration approaches for more efficient PV façade elements.
Linking up PV technology and architecture is a vital aspect here. Developing new options for PV modules' appearance and colour is part of this; the aim is to make the  appearance of PV on buildings more acceptable to future users. The approaches worked out will be discussed with architects, students and users, evaluated at JOANNEUM RESEARCH Materials (a partner in research) and incorporated in the process of improvement.
Current findings
Important results have already been achieved in all the key research areas. The visual appearance of the PV façade elements is a vital issue. The glass surfaces (ertex solartechnik GmbH) or solar cells (JOANNEUM RESEARCH Materials) in the module can be printed or stained to produce a wide variety of hues. What influence this has on PV element performance has been ascertained experimentally at AIT Austrian Institute of Technology. Numerous processes for coating crystalline silicon solar cells have been tested and various colour patterns generated. CZTS (copper, zinc, tin, sulfur) thin-film PV foil from crystalsol GmbH has also been adapted to the requirements of integration in buildings and made up in multi-coloured patterns. Sunplugged – Solare Energiesysteme GmbH are currently at work on improving CIGS (copper, indium, gallium, selenid) PV foil.
As regards lamination with PV encapsulating materials, the most suitable settings for polyvinyl butyral (PVB), to bond the façade plates to the PV-active layer, have been identified at ertex solartechnik GmbH, where multi-material composites have been fabricated with compact façade plates from Fritz Egger GmbH. New approaches for installation and for electrical lines have been developed, and an improved system from Pasteiner Fassadenbau GmbH was adapted for the façade elements. 
The sample modules produced have been installed on the façade of a miniature tower and on a large-scale test façade; they can now be evaluated in situ. On the tower the various cell technologies are being assessed by the CTR Carinthian Tech Research GmbH to see how the direction of insolation influences performance, for instance. At SFL technologies GmbH in Stallhofen in Styria eight trial façade elements (1 m x 0.7 m) have been installed on the test façade. To evaluate the PV elements' performance and stability under real-life conditions, the yields from the individual modules, plus meteorological data, are being recorded over a full year by means of instrumentation specially developed by AIT. 
By CTR a sensor system for key variables such as humidity, temperature and mechanical strain is being developed for integration in modules.
Experts at the OFI Österreichisches Forschungsinstitut für Chemie und Technik are assessing how compatible the materials of the components employed in the modules are. In the course of accelerated aging tests the chemical, thermal and mechanical stability of the materials in multi-material composites turns out to be a major challenge. Work is currently in progress on improving durability.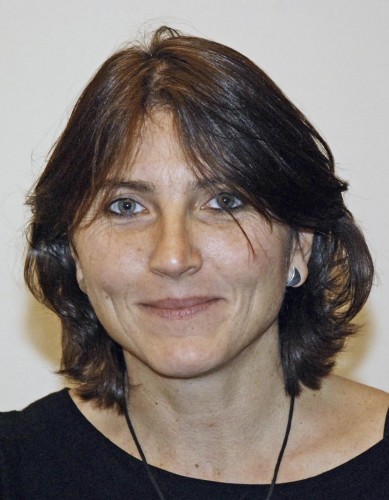 "In a three-year research and development phase pioneering BIPV elements featuring three different cell technologies have been developed. PV-active layers have been successfully joined to façade materials such as a compact plate based on wood to form a multi-material composite that delivers electricity; this points the way ahead for developing new BIPV elements."
Gabriele Eder
OFI Österreichisches Forschungsinstitut für Chemie und Technik