The renovation of the Franciscan Monastery in Graz is an impressive example of implementing a sustainable renovation strategy  in difficult circumstances. Together with the Franciscan church and the tower, which was originally part of the town wall but is now attached to the church, the Franciscan Monastery forms one of the most prominent groups of buildings in the Old Town. Along with all the technical and economic challenges, a way had to be found of coping with the requirements imposed by the Federal Conservation Agency, the need to conserve the local architectural heritage and restrictions to protect the UNESCO World Heritage site.
The starting-point for renovation was a master plan (Arch. DI  Michael Lingenhöle) with a comprehensive strategy for modernizing the entire monastery premises. Together with experts from AEE INTEC, the (utterly committed) monks succeeded in developing a four-stage "energy vision" for the monastery and implementing it, starting in 2010 (Architecture HoG Architekten). Some of the measures carried out were analysed within the  research project "denkmalaktiv I".
Structural measures
Insulating the monastery's pitched roofs made a significant  contribution to improving energy efficiency; the unheated storage rooms in the attics now function as thermal buffer zones as regards heat flowing upwards / to the outside. The monastery walls did not need insulating, as thermography revealed only minor heat losses through them. The top floors were thermally insulated with foam glass granulate. The single-glazed corridor windows were replaced by box-type windows with insulating glazing inside.
Heating, ventilation and energy strategy
A wall heating facility keeps the masonry dry and improves the indoor climate. A solar facility with 193 m2 of panel collectors integrated in the roof and 180 m2 of collectors integrated in the façade has been installed; the collectors supply heat for hot water, to warm the walls and to preheat the well water used in two heat pumps. The collectors were fabricated specially for this project; to make the building look good, so-called blind collectors (without an absorber) were fabricated and installed to some extent.
The heated water is stored in three tanks with a capacity of 15,000 litres in the basement. As the monastery walls can store a great deal of heat, the inflow temperature is a mere 32 to 33 °C. Two heat pumps (rated at 200 kW each, with solar pre-heating) can deliver any additional energy required for heating and supplying hot water. Finally, the monastery is connected to the district heating system as a backup.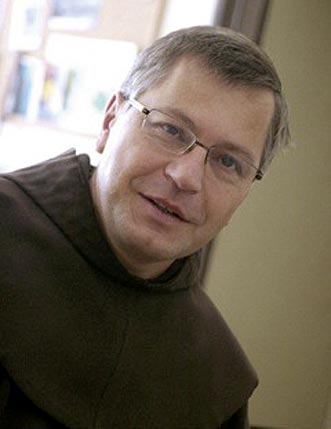 "To achieve thermal efficiency when renovating old buildings, one must pay close attention to the technical aspects of the building in question. If renovation is to result in major savings in energy consumption, and the building's architectural value is to be conserved, a whole series of circumspect measures will be needed. Apart from the technical challenge, architecturally inspired solutions are essential; after all, motivation in ecological action derives not only from the functional aim, but also from beauty – from aesthetics!"
Brother Matthias
Franciscan Monastery, Graz