In the hotel and restaurant business, the consumption of energy and resources is an important production factor that causes high costs and CO2 emissions. There are complex flows of materials involved in the operation of hotels and tourism facilities. Up until now, new construction and renovation in this sector usually only considered individual, isolated components, and synergy potentials have rarely been exploited. A pioneering flagship eco-project was implemented with the reorientation of the "Steirereck am Pogusch" restaurant and hotel business in an exposed, isolated location at around 1,100 metres above sea level. Under the project name "Energy²POG", the facility operators, the Reitbauer family, implemented an exemplary positive energy ensemble with a sustainable and ecological overall concept1. To do this, the existing construction (a main building and several outbuildings) was energetically optimised and extended by innovative new additions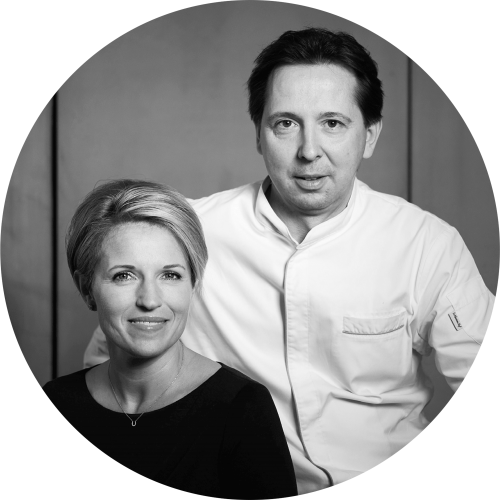 "With the support of our partners, we have been able to successfully fulfil our wish to create a functioning circular economy at Pogusch, not only for the agricultural and catering sectors but also for the energy sector."
Birgit und Heinz Reitbauer
Management Steirereck-Stadtpark GmbH
The optimised concept enables the integration of all operational material flows. The focus was on a renewable energy supply (heating, cooling, electricity) and was complemented by numerous measures to reduce resource consumption and minimise mobility-related energy and CO2 emissions. Energy2POG demonstrates how a comprehensive package of measures can be used to realise an almost energy-autonomous, resource-friendly tourism project. The project is a best practice example and the overall concept can also be applied in urban areas.
Resource conservation and circular economy
The aim of the building concept was to achieve a resource-friendly, energy-efficient construction (e.g. a high insulation standard and optimal zoning of the heated areas) as well as a careful revitalisation and optimal use of the existing buildings. The kitchen, sleeping areas, stone house, wooden house and agriculture have all been expanded, revitalized and supplemented with new elements (including two glass houses as well as special buildings for staff and guest accommodation such as tree houses). Despite the diversity of the buildings and special usage requirements, great importance was attached to the quality of the overall structure. One of the principles of the "Steirereck am Pogusch" operation is to use as many local resources as possible. For example, components are manufactured in-house and parts or furniture are repaired and reused. Depending on the building substance and costs, mainly ecological building materials were used for the renovation.  
Innovative energy concept
The "hybrid energy concept" is based on the interplay and optimisation of different renewable energy systems and relies on the use of solar energy, regional biomass and passive components. The already existing supply systems have been integrated with newly constructed systems to form an overall solution. A biomass CHP plant with around 100 kW thermal and 50 kW electrical power will be used as a supplement. The new buildings have been designed in accordance with the low-energy standard and partly with passive house components and equipped with controlled ventilation systems including heat recovery. Heat is distributed via low-temperature systems, e.g. underfloor and wall heating, as well as extensive thermally activated building systems in the floor and ceiling surfaces. Neither existing buildings nor new construction areas are actively air-conditioned; instead, the natural climatic conditions at an altitude of 1,100 metres are used to pre-condition the fresh air (e.g. air collectors) or, in summer, to use the cool outside air to cool down the building-storage mass. With this integrated energy concept, a positive energy standard is achieved for the entire "Steirereck am Pogusch" property.
Energy storage and smart regulation
In order to achieve a high degree of self-sufficiency with the renewable energy that is generated on site, and to be able to compensate for the restaurant's fluctuating load profiles, the following components were installed to store the energy and for smart regulation of its generation and consumption:
> heating buffer tank (38.5 m³)
> drinking water reservoir (approx. 70 m³)
> service water cisterns (approx. 40 m³) for rainwater utilisation
> thermal activation of concrete and foundation components
> stationary battery storage system (approx. 80 kVA) (planned)
> load and energy management for the power consumption systems
> mobile battery storage from electric vehicles (planned)
> smart regulation concept
> heat recovery from commercial refrigeration systems
> waste heat recovery from wood stoves
The diverse local food production is one central aspect. The enterprise operates sustainable agriculture to achieve partial self-sufficiency. Fruit and vegetables are grown in open spaces and in the newly constructed glass houses that are integrated into the building. The greenhouses have been designed to meet a high thermal standard and strictly separated into a part that is moderately heated, and another one kept at a low temperature.
nachhaltigwirtschaften.at/en/sdz/projects/energy2pog.php
 
1 Project partners: AEE INTEC (project management),
Steirereck-Stadtpark GmbH, TBH Ingenieur GmbH, PPAG Architekten