Significant amounts of energy and resources are necessary to build, live in and renovate buildings. A high share of energy consumption and environmentally harmful emissions around the world can be traced back to the construction and building sector. According to the UN Environment Programme's "2020 Global Status Report for Buildings and Construction"1, the construction industry accounts for 38% of global CO2 emissions. To achieve a zero-carbon building stock by 2050, the International Energy Agency (IEA) estimates that direct building CO2 emissions would need to decrease by 50% and indirect construction sector emissions by 60% by 2030.
 
The construction and renovation of buildings is also a core area of the European Green Deal, with which Europe has set itself the goal of achieving climate neutrality by 2050. The European Commission's 2020 strategy "A Renovation Wave for Europe"2 foresees a doubling of energy-efficient renovations over the next 10 years. This should not only reduce greenhouse gas emissions and increase the quality of life in cities, but also create additional new jobs in the construction sector. The central guidelines for the renovation wave include the reduction of energy consumption, resource efficiency, circular economy and consideration of the entire life cycle of buildings.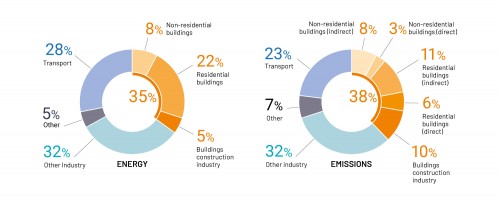 Building and renovating the City of Tomorrow
Austria has set itself the ambitious goal of being climate neutral as early as 2040. Innovations in the construction and building sector will be an important factor in reaching this goal. High-quality renovations and energy-efficient new buildings are the key to effective long-term climate protection. One of the major challenges for the construction sector is to find methods to construct and renovate buildings and entire neighbourhoods in the coming years in a way that will promote climate neutrality. Synergetic, integrated, digital and circular solutions are needed to make buildings fit for the future. Research, innovation and technology development play a crucial role here. Sustainable construction takes the entire life cycle of buildings into consideration and encompasses many different dimensions and measures. These include, for example, integrated planning methods, using recyclable building materials, resource-conserving and energy-efficient construction methods, sustainable smart energy systems based on renewable energy sources, flexible usage concepts and solutions for the deconstruction of buildings and/or recycling components and materials.
Research and technology development
For many years now, the Federal Ministry for Climate Action, Environment, Energy, Mobility, Innovation and Technology (BMK) has been supporting the research and development of technologies, system concepts and services for sustainable, climate-compatible and resource-saving urban spaces through the technology programme "City of Tomorrow". In 2021, the RTI initiative "Circular Economy" was launched to promote innovative R&D projects on relevant issues along the entire value chain. In this issue, we present some current studies on the topic of "Innovative Construction" which were prepared within the framework of the "City of Tomorrow" research programme of the Federal Ministry for Climate Action, Environment, Energy, Mobility, Innovation and Technology. One pioneering example is the pilot project "Energy²POG – hybrid energy concept" on the Pogusch alpine pass. There, a hybrid and optimised overall concept with regard to operational material flows was implemented for the restaurant and hotel Steirereck-Pogusch as a flagship project with a model character for other businesses.
nachhaltigwirtschaften.at/en/sdz/
nachhaltigwirtschaften.at/de/themen/kreislaufwirtschaft/
 
International collaboration
Austria is actively involved in international research cooperation as part of the International Energy Agency (IEA) technology programme "Energy in Buildings and Communities" (EBC TPC). The programme aims to accelerate research and innovation to integrate energy-efficient and sustainable technologies in buildings and communities. Research topics include the development and trial of forward-looking building technologies for both new construction and renovation, building simulation programmes, energy management systems and sustainable energy supply concepts for communities and regions. Current projects with the Austrian participation deal, for example, with "Energy-flexible buildings towards resilient, low carbon energy systems", "Cost-effective building renovation at district level" and the "Assessing life cycle related environmental impacts caused by buildings".
nachhaltigwirtschaften.at/de/iea/technologieprogramme/ebc/
www.iea-ebc.org
1 globalabc.org/sites/default/files/inline-files/2020%20Buildings%20GSR_FULL%20REPORT.pdf
2 A Renovation Wave for Europe – Greening our buildings, creating jobs, improving lives
eur-lex.europa.eu/legal-content/EN/TXT/?qid=1603122220757&uri=CELEX:52020DC0662