The Otto Wagner Area in Vienna is an extensive and internationally significant ensemble of art nouveau buildings. Its characteristic pavilion-style buildings are sprawled across a park-like hillside setting and, until 2020, were used as a hospital. Over the next few years, part of this site will become a campus for the Central European University (CEU), which will begin teaching and research activities here in 2025. The historic buildings need to be renovated and adapted to the needs of their future usage (office and university functions, student residences, and some medical institutes which will continue to operate there), while also respecting their protected status as historic buildings.
 
A detailed feasibility study conducted by a project consortium, consisting of the Central European University (CEU), TU Wien – Institute of Architecture and Design, LANG consulting, the OeAD-Wohnraumverwaltungs-GmbH, and Schöberl & Pöll GmbH (project management), investigated whether it is possible to renovate the entire Otto Wagner area at positive energy standards, while complying with the strict preservation order, and so to meet its future annual energy needs using locally sourced renewable energy.1
Developing the renovation concept
The primary objective of the renovation is to achieve optimal building functionality and comfort for the users. First of all the project team analysed the existing buildings and the requirements of their future usage. The next step was to devise a package of measures for construction, building services and electrical systems which were then discussed with the Federal Monuments Authority Austria, and developed further. The results of this comprehensive process show that with appropriate expertise, it is possible to renovate the complex at positive energy standards, while also complying with the strict limitations of the protection requirements for historic buildings, and at the same time to achieve a very high level of comfort for the users.
 
By adapting the layout of the buildings to the practical needs of their users, and optimising all trades, including operating equipment, the total energy consumption can be reduced by around 90% compared to simply carrying out maintenance renovation ("baseline scenario"). The energy balance for the site is positive within the accepted range of variation. Additional energy requirements can be met using locally sourced energy.
 
In consultation with the Federal Monuments Authority Austria, the following measures were agreed:
> insulation of roofs and floors, and interior insulation to outside walls
> optimisation of box-type windows
> installation of highly efficient ventilation systems with recovery of heat and moisture
> installation of highly efficient hot water systems with flow-optimised valves
> use of efficient surface heating and cooling systems
> installation of a highly efficient lighting system
> use of highly efficient energy-consuming equipment in all areas
> installation of photovoltaic systems on roof surfaces
If an efficient heat pump system is used, with near-surface geothermal heat collectors, ground probes, and if possible also using groundwater as a thermal carrier, the end consumption of energy can be reduced even further compared to a district heating/ventilation system.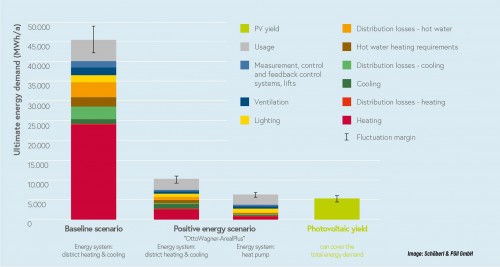 Renovation concept for the Otto Wagner Area
> outstanding comfort for building users
> minimal energy consumption
> additional energy requirements met by production on site
> high cost-effectiveness
> compliance with strict historic building regulations
Economic viability of the renovation measures
As part of the project a comprehensive lifecycle cost analysis was compiled, taking account of numerous different factors. For example, the evaluation includes productivity and health of building users, depending on the condition of the buildings. The results of these analyses show that implementing this innovative renovation concept does involve higher investment and planning costs than a basic renovation or a conventional renovation, which would produce energy savings of 30% and 70% respectively. However, the positive energy renovation variant is the only concept that produces a significant economic benefit over a comparison period of 40 years. Furthermore, after 15 years already this model also has the lowest life-cycle costs. This is partly due to the very high savings in energy costs in the positive energy concept, and also due to the low follow-up costs in the long term, which result from the optimal functional advantages of the buildings.
nachhaltigwirtschaften.at/de/sdz/projekte/otto-wagner-areal-plus.php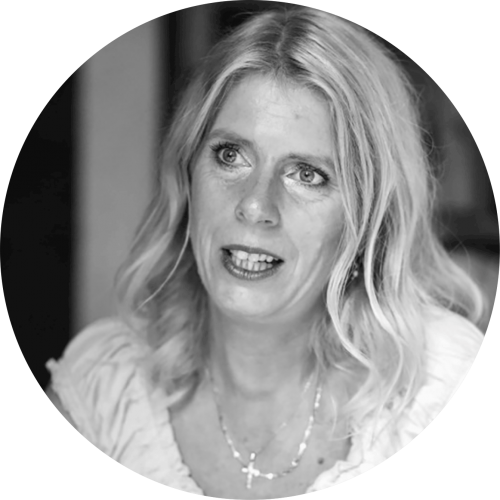 "
This project demonstrates that protected historic monuments – the last unconquered territory in the building sector – can be turned into energy producers rather than energy consumers. We believe this to be the final gasp for carbon emitting buildings. It is now up to all of us to switch Europe's building stock to being climate neutral. The landmark opportunity to refurbish a protected monument into an energy plus district is a world-first. CEU can seize the moment and set a precedent for its peers in the European higher education sector. By doing so it can also provide a unique, deeply valuable learning-by-doing opportunity for its student community."
Prof. Dr. Diana Ürge-Vorsatz
Central European University (CEU)
1 This collaborative R&D project is part of the "City of Tomorrow" programme run by the Federal Ministry for Climate Action, Environment, Energy, Mobility, Innovation and Technology.