Photovoltaics (PV) will play an important role in the energy system of the future and will continue to develop and spread across the world over the next few years. PV is one of the key technologies in the energy transition and is seen as a core component in the major expansion of renewable energy sources and the realisation of the European Green Deal, which commits the EU to becoming climate-neutral by 2050.1
 
Demand for electrical energy will rise further in the coming years, due not least to the growth of electromobility and the increased use of heat pumps. PV has the potential to make a significant contribution to power supply. PV facilities provide high-quality electrical energy, need little maintenance, have a long lifespan and enable built-up areas to serve a dual purpose. If Europe is to achieve climate neutrality, PV technology must be expanded so that it makes up as much as 60% of the energy mix, which equates to a huge increase of the current photovoltaic energy of at least 7,700 GW.2
National objectives
Austria has set ambitious targets for its energy and climate policy and intends to become climate-neutral by 2040. It plans to generate 100% (national balance) of its energy from renewable sources by 2030. Specifically, this means that the percentage of renewables in the energy mix will have to be increased by 27 terawatt-hours (TWh) by that date while observing strict environmental criteria. Of this amount, 11 TWh is to come from photovoltaics, 10 TWh from wind power, 5 TWh from hydropower and 1 TWh from biomass.3 The "Erneuerbaren-Ausbau-Gesetz" (EAG) is intended to create the necessary legal and organisational framework and an investment climate that will remain stable over the long term.
PV in Austria – today
New PV facilities with a total output of 341 MWpeak were installed in 2020, an increase of around 38%. At the end of the year, PV facilities with a total aggregate output of 2,043 MWpeak were in operation in Austria.
This means an increase of 20%. These PV facilities generated at least 2,043 GWh of electricity in 2019, thus reducing CO2 emissions by 888,000 tonnes.4
PV in Austria – development
PV will play a crucial role in the energy system of the future. Assuming that the energy system will see large-scale electrification and all major industrial processes and the mobility system will switch to electricity, photovoltaics will be able to meet some 15% of Austria's electricity demand by 2030, rising to around 27% by 2050.5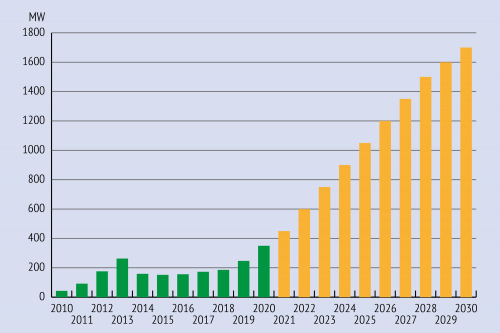 Research and technological development to create new jobs
Innovations that open the door to new kinds of application will be needed if Austria is to meet its targets for expanding photovoltaics. The country boasts some highly successful research and manufacturing companies in the electrical, electronics and glass processing industry, in building technology and in the construction sector that specialise in PV. Its "hidden champions" include inverter manufacturers and solar cell wiring specialists. The PV segment employed 2,749 people (full-time equivalents) in Austria in 2019. Innovative PV solutions, particularly those relating to integration and dual use in the building, transport and agricultural industries, are giving Austria the opportunity to create at least 60,000 new green jobs by 2030,6 with the energy storage segment expected to contribute thousands more.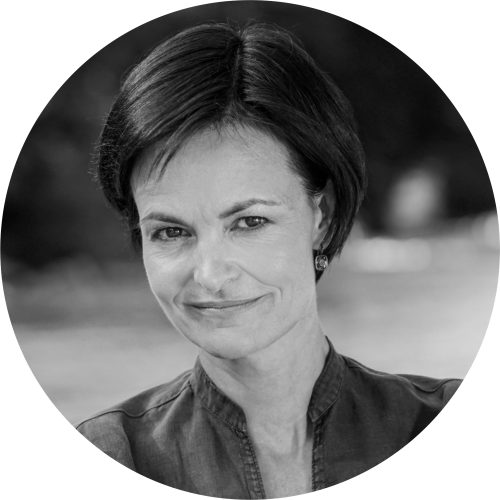 "The innovative power of Austrian companies will be needed to drive the energy transition forward. We've been working with photovoltaic systems since the early 1990s. Our products – which are 100% made in Austria – have evolved over the years, of course. Equipped with new digital features, they're now exported all over the world. But the aim has remained the same: generating as much energy as possible from the power of the sun. In doing what we do, we're strengthening Austria's reputation as a centre for research and technology while also creating many new jobs. Plus – and this is particularly important to me – we're fulfilling our responsibility to future generations."
 
Elisabeth Engelbrechtsmüller-Strauss 
CEO of Fronius International GmbH
There is a need for significant research in several market segments: integration into buildings (e.g. industrial properties and multi-family homes), integration into the energy system (e.g. energy communities), mobility (noise protection, railway lines, roads and other surfaces used by traffic) and agriculture (agricultural PV and floating PV).
The challenge over the next few years will be to make increased use of the opportunities for positioning Austria as a centre of PV innovation of international relevance. In this issue, we present a few pioneering research and technological development projects that are being implemented as part of the programmes run by the Austrian Federal Ministry for Climate Action, Environment, Energy, Mobility, Innovation and Technology (BMK) and the Climate and Energy Fund.
1  consilium.europa.eu/en/policies/green-deal
2 Austrian Photovoltaics Technology Platform, tppv.at
3  bmk.gv.at/service/presse/gewessler/20210317_eag.html
4 Innovative Energietechnologien in Österrech: Marktbericht 2020 (published by the BMK/in german)
5 pvaustria.at/wp-content/uploads/2020_07_05_Fact_Sheet_PV_Branche-1.pdf
6 tppv.at/2021/04/27/pressegespraech-photovoltaik-forschung