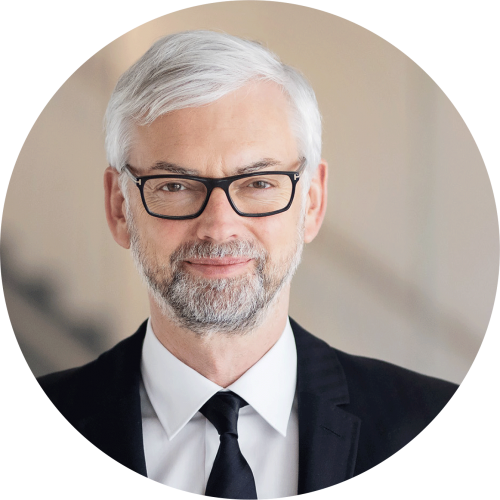 VERBUND is actively engaged in pioneering technologies to create an environmentally friendly energy system. What are the central challenges for ensuring a sustainable, competitive and affordable energy supply over the long term?
The climate crisis is one of the most central challenges of our time. We must respond and become climate-neutral as quickly as possible. The European Green Deal and the Austrian government policy programme define clear goals for doing this. Against this backdrop, the European energy system is experiencing a radical upheaval. Green electricity is the driving force of the energy future. Now we also need the appropriate infrastructure, clean technologies and usable products and services. To live up to these demands, everyone involved must rise to the challenge: this means policymakers as well as the energy industry and the various industrial sectors. We must blaze new trails and develop solutions that are fit for the future.
 
What role do research, development and innovation play in this regard?
Without innovation, a clean energy future will not be possible. VERBUND is setting standards in the energy economy and implementing flagship projects. We are going in new directions, taking advantage of market opportunities and developing innovative business models and services for and with our customers. In this way, we are developing forward-looking lines of business and strengthening our existing business. At VERBUND, we are working on innovative projects along the entire value chain: from generation and storage to the transmission, trading and sale of energy as well as services. However, the VERBUND innovation system depends on networking and the exchange of ideas. Together with research partners, innovative companies and start-ups, we are creating solutions that add value. Agility and flexibility are key factors here.
 
The production, storage and use of green hydrogen is an important research topic around the world. Does this energy carrier have the potential to become a key component of the energy system of the future?
Hydrogen produced using renewable energy sources offers tremendous potential as a replacement for hydrogen from natural gas, for reducing CO2 emissions in industry and mobility and as a storage medium for wind and solar power. We are working with partner companies from industry as well as research institutes on a variety of production and utilisation methods. We believe that green hydrogen can make a decisive contribution to decarbonisation via sector coupling and integration.
 
What conditions are necessary to promote the use of green hydrogen?
To optimally realise the potential of green hydrogen, the regulatory framework must be adapted today. For Austria, a hydrogen strategy is under development. We expect this strategy to yield a clear commitment at the national level for the support of R&D and innovation projects in order to be able to implement large-scale demonstration projects in Austria.