Today standard PV modules are in use in almost all climatic zones (temperate and alpine zones, the tropics or deserts). So far the differing climatic conditions and their effect on the PV system have been more or less ignored in technological development. Damage may occur, leading to loss of yield and a reduction in service life. In the flagship project INFINITY, headed by the research centre CTR Carinthian Tech Research AG, five scientific partners and nine industrial firms are jointly investigating how long PV systems last in various climatic zones. The aim here is to improve the entire system and adapt it to the particular climatic and regional requirements applying. The consortium deals with all aspects throughout the value-creation chain, from PV materials and components via module production all the way to installing and servicing PV facilities. The research partners contribute their scientific expertise in order to develop pioneering approaches for various climatic zones and regional specifics, such as unstable power grids, say. The firms involved utilize the research findings to develop new products for the global market.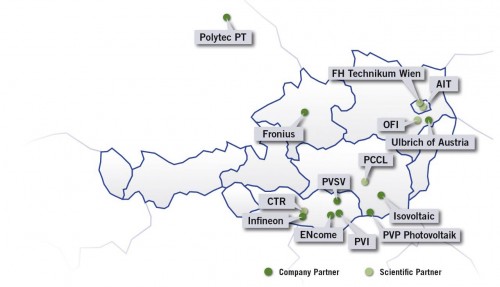 Improving the system overall
To start with, the project partners analyse the sources of trouble and the processes which degrade the PV materials, components and modules in use today. On the basis of these analyses new versions of all system elements are developed (e.g. backing foils, connecting leads, power inverters, etc.), while conditions adapted to the location in question are drawn up for monitoring PV systems effectively and servicing them. The aim is to implement PV modules with an extended service life (adapted to the climate in question) that generate more power at constant rates; European products can thus be kept competitive.
Current research issues
In the first year of the project the focus was on identifying and analysing actual damage to PV materials, components and modules that had deteriorated in the field in various climatic zones. On the basis of the "Failure survey sheet" used in the IEA's PVPS Task 13 technology programme a database was built, covering 354 surveys of more than 100 PV facilities and documenting a total of 561 different types of defect in/damage to PV systems in common use.
250 sample modules (single-cell or six-cell) have undergone laboratory testing. Damage due to particular climatic conditions has been simulated by means of accelerated aging tests under various stress regimes. The modules' degradation behaviour has been analysed, and a model developed for describing the interrelations between climatic zone, aging and length of service life. In the light of the particular load factors involved various backing materials, backsheets, PV strips and adhesive formulae are improved. 
Adapting power inverters to extreme climatic conditions is a further area of research. Various approaches to optimizing these have been investigated, and the findings summarized in a roadmap. This involves analysing the effects of sand and of condensate forming on or in power inverters, for instance, or the influence of cosmic radiation on the power electronics. Ways to improve polymer materials in power inverters are also being investigated as part of the project.
Initial findings from this research have already been discussed at 15 international congresses and symposia and presented in various publications. Work is in progress on a patent application.