The use of digital technologies results in major changes in all sectors of our economy and life. On one hand digitization opens up huge opportunities for growth, employment and prosperity; on the other hand it confronts us with real challenges. The "digital revolution" requires new types of workflow and production methods, as well as the development of innovative business models in all sectors of the economy.
In the future, digital transformation will have an increasing impact on the construction industry, too. With roughly 175,000 employees the construction industry achieved a turnover of around 33 thousand million Euro in Austria in 2017. The sector thus makes a significant contribution to GDP.1 
New technologies make it possible for the construction industry to interlink the entire value-creation chain, from planning via construction and operation to demolishing structures. This opens up significant potential for improving buildings' quality and cost-effectiveness and optimizing energy and resource flows throughout the entire life-cycle.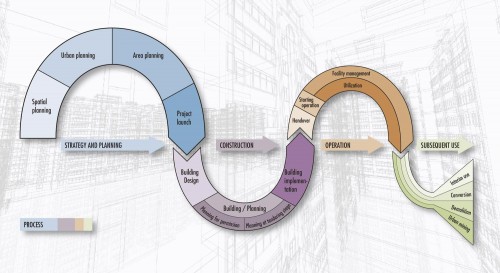 Pioneering technologies in construction
One important stimulus for digitization in construction is Building Information Modeling, or BIM for short. This method involves drastic changes to how construction projects are planned and implemented. For the construction industry Building Information Modelling is a pioneering interdisciplinary tool applying to the phases of planning, constructing and operating buildings and infrastructure. The basis is provided by an open digital building information model, actually a complex database containing both geometrical information and non-graphic data.2
For a given project the building's structure, the duration of construction and the costs incurred in construction and operation can be simulated in detail well before the implementation phase. Sharing a common database improves collaboration between various participants in all phases of construction and helps to save time, costs and resources. In future other technologies related to digitization, such as robotics, 3D printing, sensor technology, augmented and mixed reality, plus employing drones, will permanently alter how buildings are planned, erected and operated.
The digital transformation will also involve changes in job descriptions and in vocational training within the construction industry, and will require a new legal and organizational framework (e.g. for handling planning permission procedures on a digital basis).
Research and technology development
As part of programmes supported by the Federal Ministry for Transport, Innovation and Technology (BMVIT) and the Climate and Energy Fund, pioneering strategies, technologies and solutions for cities and their inhabitants are being developed for years. The goal is to enable the transition to energy-efficient, climate-friendly ways of life and work and to improve the location quality as well as the individual quality of life. The topic "Digitized planning, construction and operation of buildings" is a current focus of the research and technology programme "City of Tomorrow" (BMVIT).
In this issue we present various projects in this field that have been carried out within the BMVIT programme or are in process of being implemented. Here the focus is on the planning phase, on developing BIM further and on new digital methods of analysing the existing building stock in cities. Further thematic aspects on this topic are planned for forthcoming calls.
1Source: http://wko.at/statistik/jahrbuch/bau-produktion-2017.pdf
2Source: Studie: Potenziale der Digitalisierung im Bauwesen, on behalf of bmvit, TU Wien 2017 (in German)