On a 5.4 ha industrial site previously used by Coca-Cola in Vienna (Favoriten) a new green neighbourhood is taking shape, with roughly a thousand flats, retail outlets and educational facilities, modelled on the Biotope City concept. This strategy developed in the Netherlands by Helga Fassbinder sets on greening cities comprehensively, so as to utilize the regenerative mechanisms of nature there as well. The aim is to improve the quality of life permanently and cost-effectively, and to enable cities to cope better with the effects of global warming.
The Vienna project is focussed on implementing a variety of pioneering greening measures that will add up to a systematic, coherent overall strategy for the very first time. Planning was carried out in a cooperative process. All the stakeholders (planners, implementers and subsequent users) share the aim of following the Biotope City model. The project can be seen as a continuation (adapted to today's circumstances) of the intentions of the Viennese architect Harry Glück, forming a model for sustainable living in urban areas.
Scientific supervision
The Biotope City site serves as an urban laboratory, research zone and field for experimenting, to investigate a variety of technological and social issues for the green city of the future and to develop pioneering approaches here. The entire process of planning and implementation has been supervised by an interdisciplinary research team headed by the University of Natural Resources and Life Sciences, employing qualitative and quantitative methods from architecture, urban development, landscape management, biological engineering, project development, assessment of buildings, resource management, social sciences and participation in combination.
The research topics included new methods of estimating the effects and costs of greenery, how to adapt urban and architectural planning to living elements, or approaches to the upkeep of urban greenery involving residents. As part of supervision all steps and phases of the project were comprehensively documented. 
An inhabited park
The Biotope City model is designed to transform a densely built-up city into a part of nature. On the Wienerberg site the planted surface area will be considerably larger than before, in spite of the high building density. Vertical green façades, green roofs and terraces turn the neighbourhood into a green urban landscape.
Numerous green and open spaces with planted trees, lawns, ponds and areas for allotments and communal urban gardening are being implemented between the construction sites and in the courtyards. By using a wide variety of plants and animals, bio-diversity is sought. Active deployment of flora and fauna is intended to benefit the residents' health and sense of wellbeing. The wide view and the unrestricted access to the adjacent Wienerberg recreational area are an integral part of the overall strategy.
www.biotope-city.net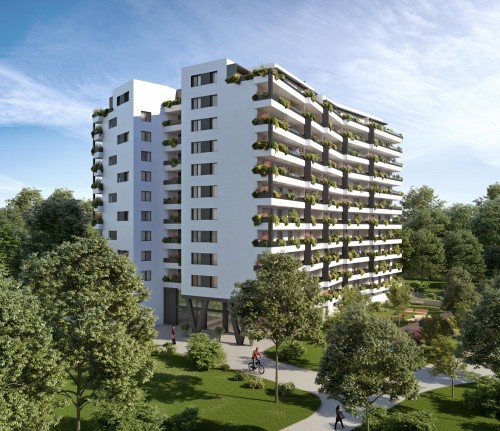 "We are especially proud to become part of Biotope City Vienna with our project 'HOCHH(IN)AUS – a green jewel at Wienerberg', and to play a significant part in landscaping this new district. Our project features 117 unsubsidized freehold flats right next to the Otto Benesch Park with its numerous open spaces it fits into the overall green design very well. This unique location provides the future residents with a breathtaking vista all the way to Schneeberg."
Stephan Jainöcker, CEO
Mischek Bauträger Service GmbH