In the ECR flagship project the City of Graz (Stadtbaudirektion), the Province of Styria and researchers from Graz University of Technology (the Institutes of Urbanism, of Thermal Engineering, for Electric Drives and Machines, of Process and Particle Engineering and of Technology and Testing of Building Materials) collaborate on working out strategies for sustainably reinventing, constructing and operating Graz Reininghaus as a district self-sufficient in energy. Expert support also comes from the City's Department of the Environment, Energie Graz and various commercial partners and external consultants.
The central aims of the Energy Framework Plan – Energy City Graz-Reininghaus (RPE_ECR) are:
conception of energy self-sufficiency for the district of Graz-Reininghaus

initiating and supporting the development process for the sustainable, energy-optimized district

providing a firm basis for establishing transferable energy targets between the City of Graz and future investors on site

providing recommendations for future energy-optimized district development schemes in Graz and Styria
Intensive negotiations are currently taking place between the City of Graz, Energie Graz and the investors in the district about the next steps in implementing the energy strategy. A jointly agreed, shared energy supply system for the district should be realized in three stages: optimizing the buildings, tying in available renewable sources of energy, such as solar power, geothermal energy and the deep well in the former brewery, and tying in available sources of waste heat from adjacent industries (STAMAG Stadlauer Malzfabrik and Stahlwerk Marienhütte).
The demonstration project +ERS – Plusenergieverbund Reininghaus Süd with 162 flats, plus office and retail premises (project partners: AEE Intec/project lead, Arch. Nussmüller ZT GmbH, TB Hammer and Aktiv Klimahaus GmbH Süd/investor) embodies an innovative solution to supplying heat in cities of the future.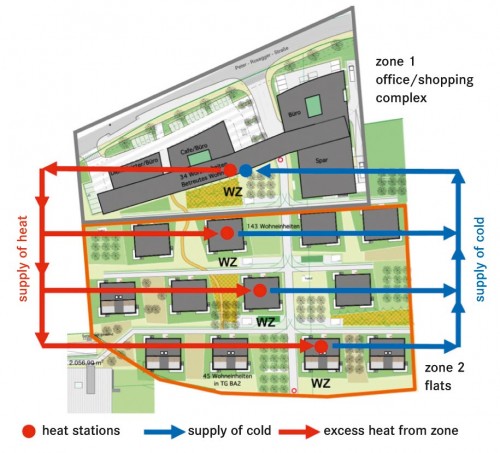 An energy network that links up buildings with differing load profiles and patterns of use raises this settlement to energy-surplus standard. Each row of four blocks is supplied via a heat station (heat pumps with buffer storage tank); these heat stations are cross-linked, so as to even out individual peakes in production or consumption, and are connected to the office/shopping complex in front. Synergy effects result: in summer the geothermal boreholes used to heat the accommodation blocks and supply hot water can be assigned to cooling the office/shopping complex. During the heating period excess heat from the office/shopping complex is supplied to the individual blocks of flats.
The demonstration project +ERS underscores the flagship  project's aims not only in technical but also in social respects, since the residents turn out to be very satisfied with the solutions implemented. The first residents moved into their new flats in  October 2013, the third and last constructed section will be  entirely finished in May 2015.