Our energy system faces the challenge of connecting a growing number of decentralised energy producers and private prosumers with each other and developing joint solutions, business models and market concepts for the renewable energy supply of tomorrow. The Austrian company eFriends Energy has been active as an energy provider on the Austrian market since 2018 and offers energy consumers and producers a platform for sharing and selling renewable energy on a private basis. eFriends uses technology developed in Austria to share regionally generated green electricity from photovoltaics, wind and hydropower in real time and independently of large electricity providers. Photovoltaic systems benefit from this in a special way, since by connecting many private households, a large part of the energy generated can also be used within the same community.
Innovative eFriends technology
Via the eFriends platform and managed by eFriends Energy Control, partners can obtain, share, exchange and sell the electricity they have produced. So, for example, eFriend 1, who owns a photovoltaic system, can feed surplus solar power into the grid. eFriend 2, who does not have an installation, can draw electricity in real time, regardless of location – throughout Austria. The two parties are linked via the eFriends MAP, where they can also agree on their own electricity price with each other. The energy balance of a household is displayed in the eFriends Watch function. Thanks to this real-time information, participants can check at any time whether it makes sense, e.g., to turn on additional household appliances.
Expanding the platform
With the new legal basis for energy communities, eFriends now goes one step further: the Energy Point project expands existing solutions in order to open the platform to all innovative energy suppliers and other providers. eFriends Energy's patent for the optimised distribution of electrical energy within a single user group has been expanded to make it possible to optimise energy flows outside the balance group. With Energy Point, a freely accessible energy trading platform was developed that enables a free choice of suppliers and operates across the balance group. The aim is to integrate energy communities, energy suppliers and grid operators on this common platform and to provide all market participants with easy, non-discriminatory access as a one-stop shop. Among other things, interfaces had to be defined in order to be able to exchange the necessary data between the market participants in high resolution. The challenge was to find a sensible and suitable trade-off that would allow an optimal balance in terms of data protection, data security, and data use. Based on selected case studies, the functionalities of the platform were tested for later large-scale implementation. The regional procurement of green electricity and the associated reduction in grid costs will also encourage new business models. The design of such models for the Energy Point platform was another focus of the project. By integrating other energy suppliers on the eFriends platform, Austria's first energy community across balance groups has been put to practice. worden.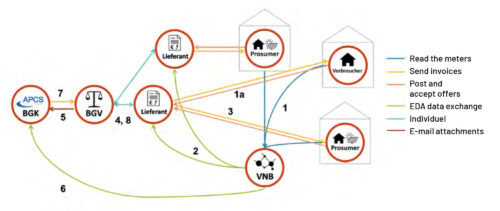 New partnerships
The Tyrolean company GUTMANN is the first energy provider to offer its own customers the opportunity to share and exchange energy via the eFriends platform. Participants of the GUTMANN electricity exchange are represented on the eFriends MAP and can therefore easily share surplus electricity from their own PV systems with other eFriends throughout Austria, or obtain electricity from them. On the eFriends MAP, they can see in real time how much green electricity is currently available from the community and how much it costs. All eFriends can determine the price among themselves. RWA Raiffeisen Ware Austria, which has a stake of around 24% in eFriends, also offers energy communities regionally via its platform "strom:teilen" on the eFriends MAP.  
www.efriends.at